Flags of Russian Empire
---
Merchant flag of the Empire 1693-1700 was white with black double-headed eagle.

Merchant flag from 20, January, 1705 - white-blue-red tricolour.
State flag since 11, June 1858 was black-yellow-white.
Black and yellow - colours of state coat of arms. White - colour of St.George.
Naval ensign since beginning of XVIII c. - white with blue St.Andrew`s cross.
St.Andrew was the patron of Russia from times of Peter I. He was the first christian preacher in territory of Russia
Honoured naval ensign (since 1819) - St.George`s Ensign.
Mounted St.George (from Moscow city arms) in the centre of the Andrew`s flag. Several hero-ships were awarded with this flag.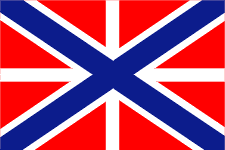 Naval jack and flag of naval fortresses.
Pilot flag
Naval Standard of Emperor
The double-headed eagle holding in his claws 4 maps of seas
---
© Victor Lomantsov, Russia, Orenburg. All rights reserved
last edited 16.9.2001